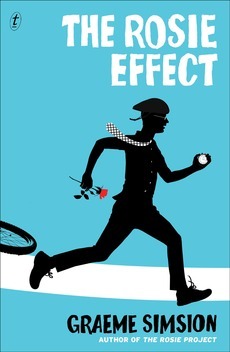 The Rosie Effect
Graeme Simsion
The Text Publishing Company
ISBN: 9781922182104
Description:
THE ROSIE PROJECT WAS COMPLETE BUT I WAS UNPREPARED FOR THE ROSIE EFFECT.
GREETINGS. My name is Don Tillman. I am forty-one years old. I have been married to Rosie Jarman, world's most perfect woman, for ten months and ten days.
Marriage added significant complexity to my life. When we relocated to New York City, Rosie brought three maximum-size suitcases. We abandoned the Standardised Meal System and agreed that sex should not be scheduled in advance.
Then Rosie told me we had 'something to celebrate', and I was faced with a challenge even greater than finding a partner.
I have attempted to follow traditional protocols and have sourced advice from all six of my friends, plus a therapist and the internet.
The result has been a web of deceit. I am now in danger of prosecution, deportation and professional disgrace.
And of losing Rosie forever.
My View:
You must read The Rosie Project before embarking on this novel otherwise nothing will make any sense. I am a fan of the original title – it was fun, quirky, poignant and unique, at the time, however I don't think follow up is quite in the same league; it felt a little laboured, was a little too much "tell and not show" (though I must admit there were a few brilliant slap stick/ comedic visual moments) and the characters however didn't have quite the same appeal as in the Rosie Project.
I found the character, Rosie, a little two dimensional in this narrative – maybe because mostly we did not hear her view point just a few negative comments or expletives. In this novel Rosie becomes more of the stereo type of the pregnant woman; needy, grumpy, tired… and in her relationship with Don she comes across as brash, sour (with a foul mouth), selfish…angry and shows little empathy or love for the unique individual that is Don Tillman, whom she accepted for his quirkiness in The Rosie Project – disappointing. The Rosie in this book did not equate with my perception of Rosie in the first novel. Don's friends' however were a little more interesting and engaging.
Overall a little laboured, a little too many contrived situations to illustrate Don's "special needs" and not enough interaction between Rosie and Don. Maybe my expectations were a little too high – I did so enjoy the first book.